Local networking events are some of the best places to market your book and share your message.
So why are so few self-published authors taking advantage of them?
With all the different social media platforms available today, it's easy to focus your marketing time here because it's generally less time consuming to engage from your computer than it is to attend real-life functions and talk to people in your community. However, if you depend solely on social media for your marketing, you're missing a vast opportunity to market your book to locals right in your own backyard.
Your marketing goal should always be to build relationships with people you can help with your message. Even though you may be tempted, don't push the hard sell on people you've just met. They don't know you, so they likely won't spend their hard-earned cash on your book. However, by interacting with them at networking events, in addition to engaging them on social media, you have built a foundation upon which to build a stronger relationship, which may ultimately lead to them buying more than just a book from you.
How to Get Started Networking Offline
The idea of walking into a room without knowing a single soul can no doubt be daunting. But the alternative of not sharing your story and your mission to those who may be seeking this exact answer to their problems is equally troubling. No matter how you want to start networking in real life, put on your brave face and tackle your social fears head on.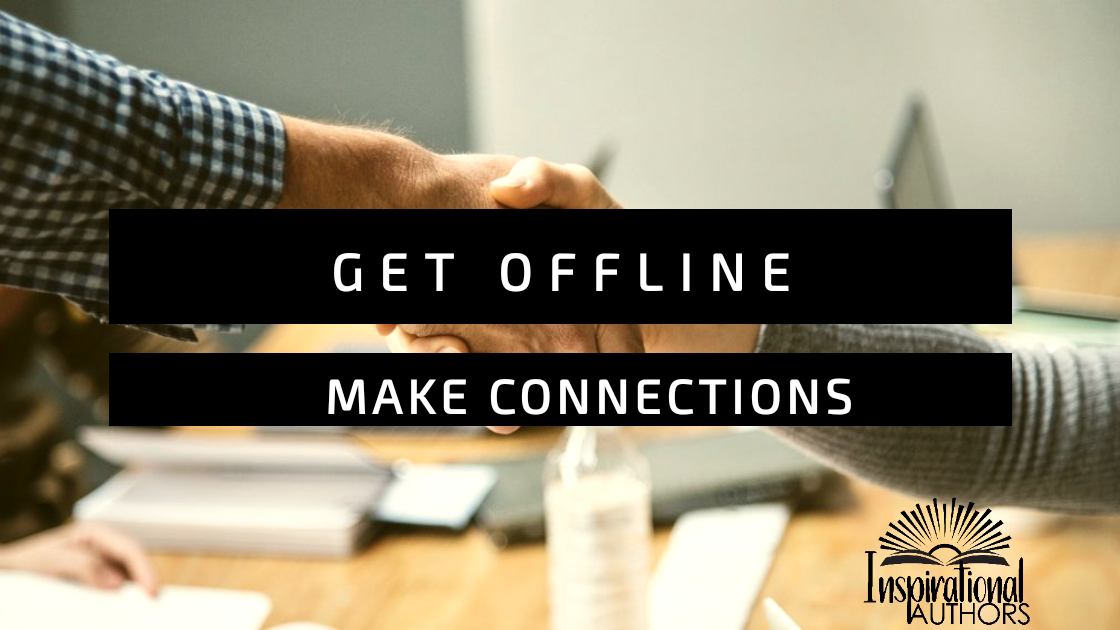 1. Join a Relevant Business Networking Group
Very often there are dozens of business networking groups and chambers of commerce spread across the country in every locale, so you really can pick and choose which group is best for you. Yes, you want to reap a reward for being a part of the group, but your acceptance into any business group will depend on what you can contribute. After all, it's all about building relationships. Some groups are more formal and have standard meeting rules, while others may be much more casual and usually smaller in scale. Ask to visit a meeting or two before submitting an application and never be afraid to ask questions about the other members or when the group was formed.
2. Hold Live Workshops
What better way to showcase your authority and expertise than to speak to your local community! Turn an online webinar into a live presentation or create a presentation customized to your community's needs. Contact your local library, business association or community college with your ideas and very often if the presentation is unique and relevant to the community, you will get a booking.
Even if live events are not your forte, choose a topic you are passionate about and that you could speak about for hours. Your passion will carry through and you'll be less likely to be nervous or get tongue-tied. Make sure to collect business cards or to have attendees sign in so you can connect with them on social media and continue the relationship building.
3. Volunteer in the Community
Look for groups or charities that are relevant to your experience, but don't go in thinking you need to change everything. Building relationships should be a positive experience, so offer your guidance and input when asked. Otherwise, enjoy conversing with other volunteers, board members, and administrative personnel, all of whom hold the possibility of referring you to their family, friends, or other networking contacts.
Still Stumped on How to Build Relationships?
I've thrown a lot of information at you, and if you still feel like these relationship marketing tips are as thick as mud, I invite you to check out my newest workshop, "Relationship Marketing: Connections, Client Loyalty and Cash". In the workshop I'll cover how to be social with your audience, what to share with them, and how to listen to the needs of your audience. But that's just the start! We'll also discuss authenticity, how to create a flattering image, how to set aside your fears, and how to live your brand every day. It's chock full of information, plus we'll have time for a Q&A at the end. Hope you'll join me! LuminaryAuthors.com/RMTraining
Brought to you by Benecia Ponder, 2x best selling author, inspirational speaker, and founder of LuminaryAuthors.com—helping you to make a powerful impact and abundant income with your message!