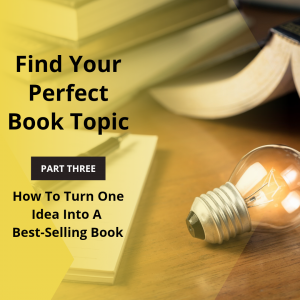 If you want to have great success turning your idea into a REAL book, you'll want to first outline and organize your content.
Now, there are two types of writers: those who plan and outline, and those who prefer to write "from the seat of their pants." 
While the loosey-goosey approach might sound appealing, for new authors it can be a fatal mistake. Without at least a rough idea what you'll be writing about, it is easy to either lose momentum and not write anything at all, or (maybe worse) lose focus and meander through unrelated topics without a clear point.
The easiest way to avoid both of these book-killing scenarios is to outline and organize your material before you begin writing. You can do this with a number of different tools, depending on your personal preference:
Software such as Scrivener

Index cards or sticky notes

A word or text document

A physical notebook and pen
Whichever your choice of tools, it's important to outline your book so that it will make sense to your reader and so that it flows naturally from one subject to the next. 
You may find as you're writing that your outline needs to be adjusted. That's perfectly fine. It's not carved in stone. But do resist the urge to expand your book beyond the boundaries of your original goal. If your reason for writing the book is as a lead generation tool, then continuing to add more and more information—no matter how good it might be—is a waste of effort. Instead, save that material for the next in the series. 
An outline can help you avoid "scope creep" while at the same time answering that most difficult of questions, "What am I going to write next?"
Here's an easy way to start outlining: begin by noting all the "must have" sections:
Introduction—I think of the introduction as an invitation letter to the reader.  You want to connect with them and let them know thy they should continue reading your book.  

About you—why you're the perfect person to write this book (this is your story)

Chapter 1—what the book is about in broad terms  

Conclusion—recap what your reader has learned and what she should do next
The chapters in between are where the meat of your content goes, and you can organize them in the way that makes the most sense for you and your readers, but do organize them. You'll be glad you did when procrastination and frustration strike.
Check out Part 3 of my 3 part series on finding the right book topic below.
And, pick up a FREE copy of my 150 Book Ideas for Purpose-Driven Entrepreneurs.