I'm just going to come right out and say it—
Sharing the message you are called to share can be difficult sometimes! 
Whether you're just figuring out you have a story to share, have been doing the work for a few years and want to make a bigger impact, or you've been in the trenches for a while and want to take it to the next level, we all know it isn't always rainbows and sunshine.
Take a look at this picture: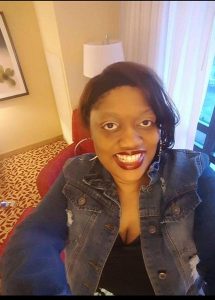 This is me a month into starting my first coaching business. I was at a conference in Atlanta called NAMS. As you can see, I was still bright-eyed and bushy tailed… 
Just a few short months later…
I sat at my kitchen table, my home office at the time, with tears streaming down my face. I stared at a computer screen that showed my bank balance to be $3.11.
I was frustrated because I knew God called me to start my coaching business yet here I was with clear evidence that I was failing at fulfilling my life's purpose. 
I was at a crossroads.
Should I continue to do the work I believe God had called me to do or should I go back to the steady income of my career as an attorney.   I was leaning towards the latter. After all, you can't let your light shine if you can't pay your light bill.
Deciding I wanted BOTH purpose and prosperity, I gave myself nine months to turn it around. I'd helped my clients build profitable, purpose-driven businesses and now it was time for me to do the same in my business.
What I knew for certain: I had a gift to help others, I just didn't have a vehicle to clearly deliver the gift to more of the people who needed it.
That's when I had the God idea to share my story and put my strategies in a book. I shared about my experiences and my journey.
As I wrote, published, and began to  share Prosper In Your Purpose, my business skyrocketed.
I went from struggling to find clients to a roster full of amazing business professionals who were excited to work with me and willing to pay the full value of my coaching services. I went from being unseen to people asking to interview me and paying  me to speak on their stages. And most importantly, I went from feeling unsuccessful to having a strong sense of satisfaction and significance, knowing that I was finally making the difference I was born to make.
I'm telling you this to encourage you: Your gifts and experiences are valuable.  
I'm also telling you this because guess what? The book became a bestseller! And 6 years later it's still selling. And what else, just a few weeks ago that book brought me 2 new clients and a speaking gig!
Whatever your background, whatever inspirational message you want to share, I promise you can write a book that makes a difference and a profit. You just have to know how.
That's why I created the Inspirational Authors community. I want you to know how to not only write the book you are called to write…but to create the massive impact and income you desire, and deserve.
Because while it's super amazing to let your light shine in the world, you've still got to pay your light bill. That's why I'm so passionate about teaching you how to share your genius in a powerful and profitable way.
Sound good?
Comment below and let me know what you've been called to share! 
Get the Inspirational Story Blueprint
Click the image below to get your story ideas organized and get started impacting lives right away! Includes key insights for keeping your stories interesting and your readers engaged!